Shuttle D10 and K48 Receive Taiwan G-D Mark Awards
2008/06/19
Taiwan / Awards

Shuttle Digital Home product –D10 and KPC product –K48 have been awarded "Taiwan Good Design Award (Taiwan G-D Mark)2008." The primary judgment criteria of Taiwan Good Design Product Mark are function, aesthetics and design.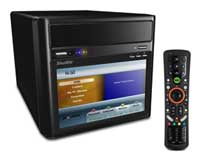 Digital Home – D10

Shuttle D10 is an all-new innovative media centre gadget featuring embedded 7" touch panel LCD for a wide range of applications. Supporting external dual-display, users can connect a TV display to the D10 and enjoy a convenient visual experience. Featuring a Shuttle-developed software, it only takes a few seconds to boot into a graphics user interface which allows an immediate enjoy of TV programs, Internet, movies and music which store whether in your D10 or from the Internet. Digital home users can access to the Shuttle software from one touch to a remote control. Adding a surveillance card to PCI-E slot, the D10 can perform as your best home security device as well.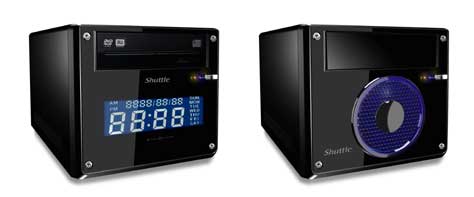 KPC Series – K48

Shuttle provides KPC K48 as a great company at home. K48 comes as a green cube which consumes very little power and is cost effective. Shuttle's unique changeable front panel "My Kover" can create different personal style. K48 can also be optionally equipped by two different accessories at the front panel: A FAN runs with blue LED ray at the front panel when in use, not only looks catchy but also cools down the hot air effectively from overheating. Another option is DIGITAL CLOCK that shows current time on the LCD display. Shuttle designed cooling technology, ICE™ Genie, dissipates the heat away from the CPU and HD. The thermal in the CPU zone will be improved at least 10% and almost 30% in HD zone by using a quiet and stable magnetic-levitated fan.

---
About Shuttle
Founded in 1983, Shuttle Inc. (TAIEX 2405) is the world's leading manufacturer of Small Form Factor (SFF) Computers, so far, Shuttle's hardware product development has extended to slim PCs, AIO PCs, Notebooks and Tablets for home, business and vertical applications as Digital Signage, POI/POS and Kiosk.To answer the trends of IoT and cloud applications, Shuttle started to build up its software and integration R&D capabilities since 2011 and launched numerous of smart solutions for Face Recognition, Education, Home Automation and Long-term Care applications.
Contact US
Marketing Dept.
No. 30, Lane 76, Rei Kuang Rd.,
Nei-Hu Dist., Taipei, Taiwan
Tel: +886-2-8792-6168
Fax: +886-2-8792-6268
E-mail:
shuttlepr@tw.shuttle.com