Shuttle Wins 2008 BCN AWARD Top Prize, Japan
2008/01/10
Japan / Award News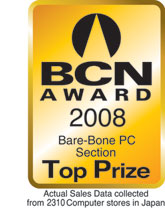 (Taipei, Taiwan, 10th Jan 2008) Business Computer News (BCN), announced on 10th January, 2008 the winners for 2008. Shuttle was crowned the Top Prize among Barebone PC. BCN AWARD is one of the most prestigious awards that IT companies can be awarded in Japan, for it honors top sellers according to the annual actual sales data collected from 2,310 computer stores throughout Japan.

"The sales volume in 2007 was outstanding, which meant that the Shuttle barebones and mini PCs were well accepted in Japan." said Ken Ito, Sales Director of Shuttle Inc. Japan. "Next, we are going to present more service and diverse range of products in order to reach delicate product quality and consumer service in desktop market."

Shuttle produced the first commercially-successful small form factor (SFF) computer and continues to develop the segment with its platform defining XPC product lines. Shuttle has long been dedicated to the creation of innovative solutions to meet customers' needs, and thereby has received numerous awards and accolades from independent media and analysts, affirming the superior quality of Shuttle products and services. BCN ranking proves Shuttle's steady progress year by year, and the year 2007 Shuttle outperformed other SFF brands. It stands Shuttle's position to be the top Barebone PC brand in Japan.


About BCN AWARD
Since 2000, BCN has been announcing the best selling products in "BCN AWARD". BCN AWARD is one of the most prestigious awards IT companies can receive in Japan. The award ceremony is an annual event held each January.
Check more BCN information on http://www.bcn.jp/

About Shuttle Inc.
Established in 1983 and publicly listed since 2000, Shuttle Inc (TAIEX 2405) is an industry leading designer and manufacturer of small form factor (SFF) computers and accessories. Shuttle produced the first commercially-successful SFF computer and continues to define the segment with its platform defining XPC product line.

---
About Shuttle
Founded in 1983, Shuttle Inc. (TAIEX 2405) is the world's leading manufacturer of Small Form Factor (SFF) Computers, so far, Shuttle's hardware product development has extended to slim PCs, AIO PCs, Notebooks and Tablets for home, business and vertical applications as Digital Signage, POI/POS and Kiosk.To answer the trends of IoT and cloud applications, Shuttle started to build up its software and integration R&D capabilities since 2011 and launched numerous of smart solutions for Face Recognition, Education, Home Automation and Long-term Care applications.
Contact US
Marketing Dept.
No. 30, Lane 76, Rei Kuang Rd.,
Nei-Hu Dist., Taipei, Taiwan
Tel: +886-2-8792-6168
Fax: +886-2-8792-6268
E-mail:
shuttlepr@tw.shuttle.com